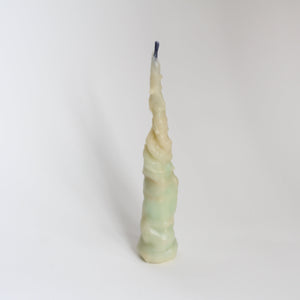 Burn Baby Burn by jewellery makers Margherita Chinch, Marguerite Bones and Martina Turini. The candles are made of European beeswax, natural pigments, handmade and one of a kind. 
Behind the scenes of a jewellery practice, there is often a scent of burn, a thread made of smoke, and sticky fingers. The hands carve and knead, press and brush off. The mouth curls up to fill itself with air, and blows to cool down the burning wax.

Behind the scenes there is wax, so much softer and so much different than metal: unwearable, fickle, weak and shapeless when facing the heat.
The lost-wax process is the casting process through which a wax object 'turns' into metal. This time around, we want to present a series of one of a kind cuckoo candles, in order to celebrate wax, a material we so often work with, without it ever being present in the final outcome of our pieces.
Burn Baby Burn was born like this, and it's a six-hands-project by Margherita Chinchio, Marguerite Bones and Martina Turini; arising mainly from the will to meet up (at least once) yearly and have fun. We think our candles perfectly reflect this mood. They are made of European beeswax and natural pigments, each of them is unique and entirely handmade by us.